You are here
Victor Ty
RN to BS in Nursing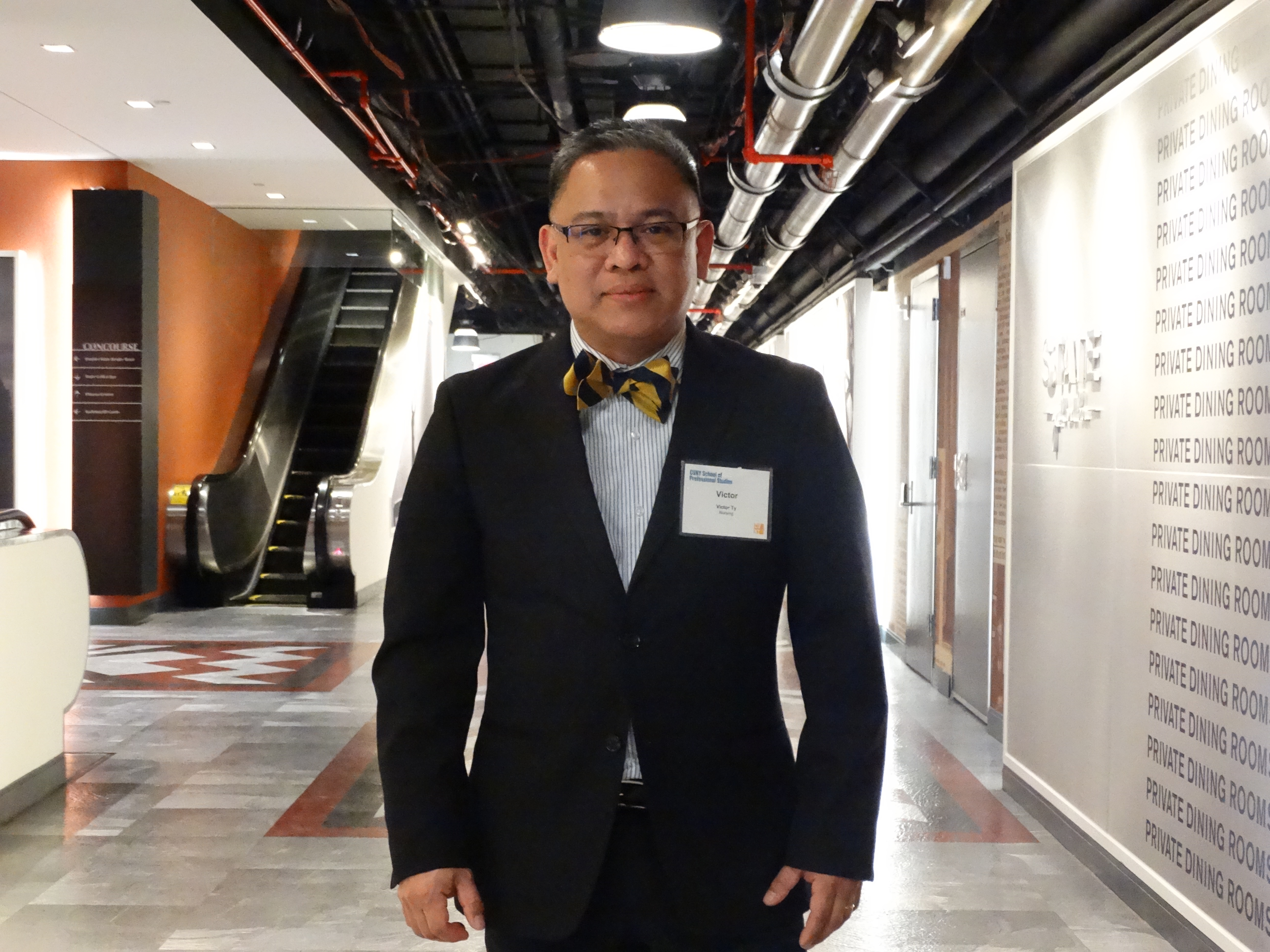 "I have mentioned this to every aspiring nurse out there that CUNY SPS allowed me to share my views, experience, and make my learning tangible. I have learned quite a lot from other students as well as from the mentorship of our professors. I know that the experience at CUNY SPS has given me more motivation to reach my goal of teaching nursing students one day."
1. Why did you decide to become a nurse? What is the most gratifying aspect of your job?
I have been around nurses for about half of my life, I am married to radiation oncology nurse and our circle of friends are nurses from different areas of medicine; however, my motivation to become a nurse stems from what my oldest son Nicholas experienced when he was about 5 years old.  Nicholas was diagnosed with Autism Spectrum Disorder at 18 months old. As we saw Nicholas regress to becoming non-verbal, there was always this fear of how he will express his needs, pain, joy, etc. My wife and I got a call one morning: Nicholas's school bus was involved in a fender bender. No one was hurt but all of the kids were brought to Elmhurst Hospital for evaluation. There were about 12-14 children all in the Autism spectrum inside the bus. When we got to the ED several kids were seated on one stretcher and two nurses and a doctor were standing there perplexed as to how they were going to assess these children. Some were on the verge a tantrum due to the unfamiliarity of the place, a few were stimming to address their anxiety, some were making funny noises, some stoic, a gamut of different non-verbal cues that most of us who have undergone training and schooling to be medical professionals barely had any exposure to individuals with developmental delay. During this time, I was already immersed in the special needs community, collaborating with academes from Queens College in what they called the NY State Task Force for Autism. A year later, I enrolled at La Guardia Community College vying for the coveted 60 seats in the nursing program. I had butterflies in my stomach as I returned to school at age 40 to learn a new language and a new set of skills. I, along with my newfound friends in nursing school, marched on and completed the program in 6 semesters, passing the NCLEX thereafter, and in the workforce in a few months. The journey to becoming a nurse had just begun.
The most gratifying aspect of my job being a radiation oncology nurse is being able to bridge the gap between patients, physicians, radiation therapists, nutritionists, psychologists, and social workers. Especially for those individuals with special needs. As the diagnoses of developmental disabilities continue to rise, we can expect to see more patients with special needs come into our doors. About 1 year in the job, a 17 year old young man walked into Maimonides Cancer Center with parents in tow. I had the liberty in consulting him and his family. It was apparent to me right off the bat that he had developmental delays. He was barely verbal and was stimming throughout the consultation. I have prepared my practice for this very moment as this is why I am a nurse today. I always have Legos on hand in my clinic, coloring books, puzzles, and building blocks even though we do not treat pediatrics. These activities can help me build a rapport with the patient and family. The consultation went very well with very little interruption. I made eye contact with my 17 year old patient more and at the same time spoke to his parents. I presented the case to my attending physician who asked me to stay for the rest of the consultation and I was given the task to create a plan of care for this patient. As a radiation oncology nurse, our primary job is educating the patient on what to expect during radiation. We go over what to do or not do during therapy. This was a major hurdle because my patient was non-verbal and it was difficult to ascertain his level of understanding. I elicited from his mother that he loved Legos and it just so happened that I am an avid Lego designer and builder, so I built him a movable model of a linear accelerator. The machine that will deliver radiation therapy. The moment I showed him the model he was wide-eyed, focused, and seemed to listen to every word I uttered when explaining the different parts of the machine, how they move, what sounds they make. After a couple of dry runs, our young man was ready to embark on his journey. He completed his radiation regimen without incident or interruption. Tailoring our care based on the individual patient to achieve better outcomes truly came into fruition.
2. Why did you choose to continue your nursing education at CUNY SPS?  Why an online program?
CUNY SPS in two words … GOD SEND! When I first heard of plans to create an online college within the CUNY system I immediately wanted to sign up. I met Profs. Reilly and Lavin during a presentation at Maimonides Medical Center and asked, "when can I start"? I have a Monday to Friday work schedule, which disqualifies me for practically any traditional RN-BSN program in the city, including those with night schedules because somewhere along the line a clinical schedule will cut into my work schedule. CUNY SPS allows me to study at night into the wee hours of the morning and still give me ample time to sleep and be ready for the workday ahead.
3.  How do you manage your career, classes, and your personal life?        
Schedule, schedule, schedule… I am a dBase III+ programmer by trade, who spent more than 2 decades in the fashion industry. Initially, I developed software to manage our inventory of silk yarns and then moved on to designing textiles and apparel, to manufacturing and marketing, and the whole vertical operation after 20+ years. I was very organized and followed a schedule. Working 5 days a week is perfect for our family. My wife and I are both radiation oncology nurses in two different institutions so we get to share some patients and brainstorm about best practices and share the great ones. We debrief every day after work at dinner time to allow decompression and address compassion fatigue. We have 2 sons, one of whom is autistic. All of our schedules are plotted in one calendar showing time, duration, dates and options. Weekends are reserved for family and alone time. I engage in a lot of sports hockey, ice or inline skating, skiing, climbing, tennis, playtime in our city parks. I spend at least 6 hours a week figure skating. I zone out in my element and just skate to the music I love and socialize with fellow die-hard skaters that I have known for more than 2 decades. My plate is full from 7am – 2 am with work, school, and play, and I enjoy every minute of it because I feel that I accomplish a ton of things everyday. I even find time to be involved in my community, volunteering at my son's school. I established a once monthly gym nights, a simulated outdoor playground experience in an indoor gym that is safe and accepting venue for kids with Autism and their families can to come and enjoy without the judgement. I am also involved in the MAKER Movement since it was discovered that I made a Lego Model of a Linear Accelerator, that I used for teaching. This model is now used at one other cancer hospital and more cancer centers are in line to get one. I was nominated to go to the White House for the 1st White House Maker Faire 2 years ago. Today, I present this innovation in healthcare along with my younger son, Benjamin. I have since designed and created other models of imaging machines such as MRIs, PET/CTs, and radiation delivery machines such as gamma knife and proton beam machine all to be used am teaching tools for pediatric oncology patients and some adults too. Benjamin and I are also developing a Braille system prescription labels to make it safer and efficient for the visually impaired to managed their medication regimen.
4. What has been one of your favorite courses?  Favorite professors?        
As for my favorite courses, I have to say Community and Global Health. Profs Lavin and Shake have given me even more fuel to continue my endeavor in propagating sensitivity to the needs of an individual patient. Allowing ourselves to be immersed in the culture of caring, taking into consideration all the aspects of our community locally and globally. They have given me more focus in developing ideas to help improve the delivery of health care to everyone.
5. Which professional and/or personal goals would you like to achieve prior to graduation?
This is my 6th year of practice, all in radiation oncology, however my passion is to teach. I am now 46 years old and am slated to complete my BSN in 2017. I plan to proceed with Masters in Public Health and teach on the college level. Train new upcoming nurses on the true calling of the nursing profession. Bring back community involvement in schools, hospitals, and churches in order to make a change to a new paradigm of preventative care.
6.  In your opinion, how do you believe you have grown thus far as a result of joining CUNY SPS?
I have mentioned this to every aspiring high school and associates nurse out there that CUNY SPS allowed me to share my views, experience and make my learning tangible. I have learned quite a lot from other students as well as from the mentorship of our professors. I know that the experience at CUNY SPS has given me more motivation in achieving my goal to teach nursing students one day.
7. What advice would you offer someone considering applying for admission to the nursing program?  
Incidentally, I was just advising two volunteers at our clinic today. Commitment to learning, commitment to time and that learning is an experience and not just passing a test. Immersing oneself with the new concepts by preparing themselves prior to semesters. I encourage aspiring nursing students to learn the language of medicine and map the human body. I advise them on how to get a nursing degree without going into debt. I encourage them to network early on in their schooling and engage in volunteer experiences. More importantly, I ask them to ask themselves why they really want to become a nurse. Nursing is not only a full time job it is also a lifetime commitment to learning and educating oneself, one's family and the community in order to help improve our outcomes – our lives, holistically.
Victor also shared some fun facts about his life:
Place of employment: Maimonides Cancer Center
Job title: Senior Staff Nurse Radiation Oncology Certified
Place of residence: Jackson Heights, Queens, NY
Weirdest place you have studied: Government Secondary School, Langtang, Plateau State, Nigeria (I wouldn't call it weird but exciting)
Best thing about your community or NYC: I once wrote an article on raising your child in NYC… NYC has the best to offer in anything under the sun, from masters of the art, virtuosos in music, talents on Broadway, to great medical institutions, to its diversity and our tolerance of one another. If there is a place for any nurse to train… as the song says "If I can make it there I can make it anywhere…" or plainly I LOVE NY for everything it has to offer.
What you enjoy doing in your spare time (the little time that you have): This is a list of my favorite things:

Ice skating at Rockefeller since 1993 6 months out of the year.
Snow tubing with my sons at Pilgrim Hill in Central Park after a major snowstorm          
Skiing, hockey, tennis, playing in city parks, museums, zoos, aquariums
I also love to travel with my family, we have gone to Asia, Europe, Africa so far and hopefully to Australia and South America soon