Patrycja Golinska
MS in Business Management and Leadership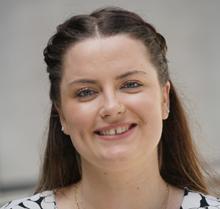 "Get to know the people in your classes even though you don't physically see them every day; don't underestimate how much you might need each other's support along the way."
Why did you choose to continue your education at CUNY SPS? Why the online MS in Business Management and Leadership?
I knew I wanted to stay within the CUNY system where I received both my associate's degree (LaGuardia Community College) and bachelor's degree (Queens College). I decided that I would try an online program for a change, particularly because I have a very hectic and unpredictable work schedule. I figured this would give me the flexibility that I needed, without hindering my ability to apply myself and get back to school.
What was your motivation for returning to school for this master's degree?
Everyone around me was my motivation to return; they kept pushing me to go back. My closest friends all have their master's degree and were a big support, as well. With how competitive the job market is, I figured now is the best time rather than putting it off any longer.
Did you ever think that you would enroll in an online degree program?
I personally love physically showing up to a campus, being able to raise my hand and ask a question, study in a library, etc, so I definitely did not initially think I would enroll in an online program. However, I was unsure I could commit to a set weekend/evening schedule for the program I wanted, so I knew CUNY SPS was my best option.
Which aspects of the program have you enjoyed most thus far?
The flexibility of the program is definitely number one for me. You get firm deadlines and get to work them into your own schedule as you see fit, which is amazing. If you have an unpredictable schedule and don't want to get overwhelmed by the commitment or bored by the monotony, this is a good alternative.
What is your relationship like with your classmates?
There are a few students that I see semester after semester, which is nice because we have been able to build a relationship over time. They are able to provide feedback about courses that they have taken which I am planning to take. I am also lucky to have a role on the CUNY SPS student association and therefore attend on campus meetings once a month where I interact with some of my peers.
What professional or personal goals do you think you achieved while at CUNY SPS?
Simply by enrolling into this program, I achieved the goal of getting back to school. I love learning, but kept putting off going back to school for many reasons. Additionally, I was able to find a better work-life balance once I applied for the program at CUNY SPS because I was able to work at my own pace and during the hours that fit me best, which change every day. I was also able to take on a smaller schoolwork load (1 to 2 classes a semester) so that I can do other things outside of my full time job, which includes kickboxing and having a role on the student association. I was able to better manage my time and prioritize my personal goals due to the flexibility the program offers.
What kind of impact do you think your degree will have on your career/life?
I will have the leverage to negotiate a more competitive position in the workplace with my master's degree, and also be able to apply all of the knowledge that I have learned along the way in both my career and day to day life.
What advice would you offer someone considering applying for admission to your program? Advice you can offer someone who is juggling work and school?
If you don't think an online program is for you, give it a chance first. Learn and grow from your experience. Find out what works and what doesn't work for you, and see how you can change so that it's a more enriching experience the next time. Each semester, you learn more about your learning habits, self-teaching, and resources that become more valuable over time. Get to know the people in your classes even though you don't physically see them every day; don't underestimate how much you might need each other's support along the way. And last but not least, the cliché "life is a marathon, not a sprint" quote. Pace yourself and do not rush. If you need to take one class at a time because you're balancing work and life, that's totally okay. It's for your own benefit to only take on what you can handle and apply yourself to and do well, rather than overwhelming yourself and not getting the full experience.