You are here
Neal Rogers
BS in Information Systems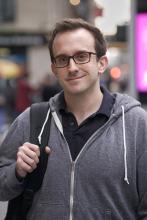 "...as I come closer to graduation, I've discovered it's more about realizing my potential than anything else."
Why did you decide to join the BS in Information Systems program?
As someone who's self-taught and made a career in the field, pursuing a degree in information systems was a no-brainer. Over the years, I've learned a great deal and gained tremendous amounts of experience across a wide range of technologies, but I was certain a degree in IS would provide me with greater understanding than I could ever come to on my own.
Why did you choose to continue your education online at CUNY SPS?
Online courses provided me with the flexibility I needed to strike a balance between work and life, and CUNY SPS offered one of the best programs available.
How does the degree relate to your career that you have OR the career that you want? What do you love most about this field?
Honestly, the degree relates to both where I've been and where I want to be. My studies have built on the knowledge I acquired from years on the job and have exposed me to concepts I'm confident will advance my career forward.
What was your motivation for returning to school for your bachelor's degree?
At first, the single greatest motivation for returning to school was to simply finish what I'd started over 15 years ago. However, as I come closer to graduation, I've discovered it's more about realizing my potential than anything else.
Which aspects of the program have you enjoyed most thus far?
The hands-on experience with different technology and software, e.g., database programming, geographical information systems, etc., have been fascinating, challenging, and, in many instances, downright fun to learn.
What is your relationship like with your classmates and professors?
Honestly, like any other group of people – some great, some just okay but overall the interactions I've had with professors and classmates have been great!
Which professional or personal goals do you think you achieved while at CUNY SPS?
I think in many ways I've become a better team player, collaborator, and leader. The countless interactions I've had with other students have honed my communication skills and the numerous group projects I've participated in have helped me to develop a methodology for building teams, both of which will no doubt serve me well professionally and personally.
In which ways have you grown as a result of your studies at CUNY SPS?
Perhaps the single greatest measure of growth for me has been my position concerning my long-term academic goals. Prior to enrolling at CUNY SPS I was committed to simply getting my bachelor's degree and finally drawing my academic career to a close. But now that I finally appreciate the investment I've made in my future I've decided that pursuing an advanced degree is well worth the commitment.
What kind of impact do you think your degree will have on your career/life?
There isn't a doubt in my mind that a degree will present me with a slew of new opportunities and set me on a path toward future success. As I see it, obtaining a degree reflects dedication and ambition that, at times, might be difficult to demonstrate otherwise.
What's the greatest piece of advice you've received while at CUNY SPS?
Don't give up – don't lose sight of the decision you've made to better yourself.
What advice would you offer someone considering applying for admission to your program? What advice can you offer to someone who is thinking about entering an online program?
Be prepared to set aside considerable amounts of time dedicated solely to study and build a schedule for yourself – be prepared to be self-disciplined.
What does your future look like after CUNY SPS?
I hope it includes a master's degree from the Pratt Institute!
Learn a little more about Neal:
Place of employment: Currently self-employed
Job title: Freelance User Experience Designer
Place of residence: Brooklyn
Weirdest place you have studied: Not sure I have a weird place, I've studied but maybe a least productive which was at a sports bar in Park Slope.
Best thing about your community or NYC: The diversity of people and places – NYC is like nowhere else on earth.
What you enjoy doing in your spare time: Painting, drawing, playing non-educational video games.