Kenneth Bentley
BS in Information System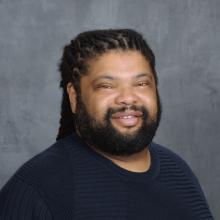 "The primary impact I feel this degree will have on my life is increased stability. I look forward to entering the job market with the skills necessary to succeed."
Why did you decide to join the BS in Information Systems program?
Information technology and information systems have always been a passion of mine.  I started college as a double major at the University of Texas studying Music and Electrical Engineering.  I came to a point where I had to make a choice between the two fields, and I chose music.  While I do not regret my choice, I always wanted to return to school and study technology.  I was looking for a degree plan that would expose me to diverse subjects in technology and the BS in Information Systems degree at CUNY SPS has over delivered!
Why did you choose to continue your education online at CUNY SPS? 
I have enjoyed a 25-year career in music performance and education. Two years ago, I decided it was time to explore one of my other passions, technology.  I wanted to find a program where I could enroll full-time, but still maintain my career in music.  The main obstacle I had with pursuing another degree was that my career often involved travel, so attending classes in person was not an option for me. I had seen several ads in the subway for CUNY SPS and so I decided to apply. I was touring in Germany when I found out I was accepted and began my studies at CUNY SPS while touring Eastern Europe. I needed the flexibility of CUNY SPS to achieve my goal of obtaining an IS degree.
What was your motivation for returning to school for your bachelor's degree?
I had two primary motivations for returning to school for a second bachelor's degree.  First, I wanted to study technology and information systems. I did not feel comfortable applying for a master's program considering it had been 20 years since I completed my first bachelor's. My first degree was also in music, so I did not feel many master's programs would accept me to a program that was so different from my first degree.  Pursuing a bachelor's degree in information systems first seemed the logical choice before attempting a master's degree pursuit.  Second, I felt that having a BS in Information Systems would be a great resume builder for IT jobs. While my resume has plenty of music items, I felt I needed to prove I had a technology background.  Having CUNY SPS on my resume was my first step in this goal. 
Which skills have you acquired during your time at CUNY SPS that you believe will help you excel in the information systems field?
I feel that the BS in Information Systems degree is uniquely designed for adults that need skills in IT or are looking to enhance their current skills.  The program starts with basic IT fundamentals, proceeds through the domain of cybersecurity, and ends with an understanding of today's most relevant skills in cloud computing, e-commerce, and business design.  As an IS major on the management track, I also learned invaluable skills in accounting, supply chain management, human resources, and marketing.  The degree program is well rounded and current with the needs of job providers in this economy. 
Can you talk about the connections/relationships you formed with your professors and other CUNY SPS students?
Before attending CUNY SPS, I shied away from group work. However, working in groups is a skill that many employers are seeking, so I am grateful for the opportunities that CUNY SPS has provided in working with new people.  Even if the projects were simple enough to complete alone, the relationships I have fostered by working with my peers have been invaluable. I also connected with several professors and plan on keeping in touch with them post-graduation. 
In which ways have you grown as a result of your studies at CUNY SPS?
I have become better at organizing my time.  While most of the courses at CUNY SPS are self-paced, there are still weekly deadlines.  These deadlines often did not align from class to class, so making sure I scheduled my time accordingly was challenging at first.  However, as I progressed from semester to semester, my time management skills also progressed.  In addition, I feel that my ability to connect with others has grown.  I am a shy person.  Having to connect with my classmates on a weekly basis through the discussion boards has lessened my fear of meeting new people and sharing my insights.
What kind of impact do you think your degree will have on your career/life?
My hope is that this degree will help me start a new career in a path I have been interested in for most of my life. I felt in the past that my lack of a degree in technology has held me back from higher paying jobs, or just higher pay in general.  The primary impact I feel this degree will have on my life is increased stability.  I look forward to entering the job market with the skills necessary to succeed. 
What advice would you offer someone who is considering an online program?
I highly recommend online education for adult learners!  I could not have attained a degree at this stage of my life without the flexibility online learning offers to students.  First, look for a program that interests you while at the same time considering the skills you will learn, and how they can be applied to your life.  Next, check the financial aid offerings of the school. I could not have attained this degree without the generous financial help CUNY SPS provided.  Finally, be ready to work hard!  The more energy you are willing to put into classes, the more you will get out of them. 
What does your future look like after CUNY SPS?
The future looks brighter!  I look forward to pursuing jobs in the field of information systems. While I will be a musician for the rest of my life, I am confident that having the IT skills I attained while pursuing this degree will make me more marketable in today's job market.