Eugen Morarescu
BS in Information Systems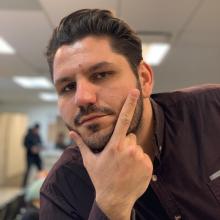 "I will also be one of the first people in my family to earn a college degree; I want to make my parents proud, and prove to myself and them that their struggle was worth it."
Why did you decide to join the BS in Information Systems program?
I started my career in information technology five years ago working for the Geek Squad at Best Buy. I've always been interested in technology as well as be involved in activities that involved people and problem-solving. I found the information systems path to be an ideal fit for my interests because it blends the technological aspect of a business with the management aspect. It provides me the opportunity to learn more about technology as well as how to implement it within an organization. I see it as a way to advance my career and I'm having fun doing it!
Why did you choose to continue your education online at CUNY SPS?
I returned to Laguardia Community College to pursue higher education in 2016 after a six-year hiatus. After completing my associate's degree at LaGuardia, I started looking for a bachelor's degree program that would allow me to continue working full time while going to school full time. The fact that CUNY SPS is online allowed me to do just that and not have to stretch myself thin commuting between work and school. I also read about how great the CUNY SPS program is and I was excited to have found such an amazing opportunity to further my education.
What was your motivation for returning to school for your bachelor's degree?
After several years of navigating the job market without a degree, I realized that the simplest and best way for me to increase my career prospects would be to pursue a degree. I had always wanted to get my degree but the circumstances I found myself in during my earlier in life didn't allow it. When I finally saw the opportunity to do it, I didn't hesitate. I will also be one of the first people in my family to earn a college degree; I want to make my parents proud, and prove to myself and them that their struggle was worth it.
Which skills have you acquired during your time at CUNY SPS that you believe will help you excel in the information systems field?
I chose the technical track of the information systems program, which means I get to learn more programming skills. I picked up more knowledge on SQL, Python, and web development; learned about what it takes to be a project manager as well as the many different phases involved in launching and completing a project; performed data analysis and learned how to use various tools to not only analyze data but present data properly; learned about network security and the many different ways to set up a network; learned about the ins and outs of E-commerce, and much more!
Can you talk about the connections/relationships you formed with your professors and other CUNY SPS students?
The professors at CUNY SPS are absolutely amazing. They put in a lot of effort to close the distance that exists in online learning. They are very responsive. I never felt like I didn't have someone to reach out to if I needed help with the work. One cool and unexpected experience was how often I'd find my peers from previous classes in other classes. Even though our communication was mostly through discussion boards and group chats, I felt like I made friends and even built a good rapport with some of them!
In which ways have you grown as a result of your studies at CUNY SPS?
Online learning sometimes involves figuring things out for yourself, combined with having to do many research projects. As a result, I feel like I've improved my research skills tremendously. I've also learned to better manage my time to avoid overwhelming myself and worrying about missing deadlines. I have more confidence in my ability to rely on myself now that I know I can plan ahead appropriately to meet my goals.
What kind of impact do you think your degree will have on your career/life?
I believe my degree will impact me tremendously. It will qualify me for better positions at my current place of employment as well as for better positions outside of it. My goal has always been to do remote work in the information technology field and I believe my degree will help me achieve that! My confidence will also be elevated knowing that I was able to finally fulfill my goal of graduating.
What advice would you offer someone who is considering an online program?
Do it! I think people find the concept intimidating because they feel they'll be alone in the struggle and have to deal with things by themselves. The truth is that we live in a digital age where communication is easier than ever. Start group chats with your classmates, email your professors, reach out to the support staff at CUNY SPS. There are many ways to stay in touch with the school online and being able to do it from the comfort of your own home is a major bonus. Also, make sure you spread your work out and try not to get everything done in one day. It's a marathon, not a sprint.
What does your future look like after CUNY SPS?
It looks very bright, I hope. I will be pursuing software development or program management roles which will help me get closer to my desired lifestyle. I may even return and get my master's degree after I've accomplished my other goals. I will also be taking a much-needed vacation on a tropical island and turning off my computer and phone!