You are here
Rohan Ketwaroo
MS in Business Management and Leadership
Class of 2019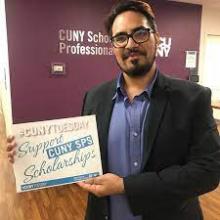 "Take advantage of all the webinars and events at CUNY SPS. These are people who will help you to succeed, both in your CUNY SPS tenure and even beyond."
What were some of the most defining aspects of your time at CUNY SPS?
Being a part of CUNY SPS allowed me not just to embrace student life, as I once did many years ago, but it also allowed me to be more ingrained in the School's operations.  After my first semester, I absolutely fell in love with continuing my education and the flexibility of remote learning. I almost felt like I wanted to reciprocate the absolute pleasure I felt by feeling so welcomed and assisted in returning to school after such an absence. Joining the Student Association put me in a place where I was able to give back to CUNY SPS all the things CUNY SPS had given me.
What is the best piece of advice, or most important thing you learned at CUNY SPS?
Engage with everyone.  From students to the professors to the CUNY SPS staff.  Engage.  Take advantage of all the webinars and events CUNY SPS presents.  These are people who will help you to succeed, both in your CUNY SPS tenure and even beyond.
Who influenced you the most? Please feel free to include anyone from the CUNY SPS community including faculty, staff, or fellow classmates.
My fellow Student Association members.  It was incredibly memorable seeing how much they love CUNY SPS to the extent where they want to spend their extra free time working on School initiatives, giving up time they would normally have with family, social activities, and even studying. Being surrounded by like-minded people allowed me to learn how to better manage my time and use the skills I learned in other areas of my life.
How has your CUNY SPS influenced your current job, and your career overall?
Continuing my degree put me in a position where I can be seen in a higher light.  I went from a manager to a director in my old job.  I was also afforded the opportunity to branch out to a different arena outside of IT.
What is the most rewarding aspect of your job?
Having an MS in Business Management and Leadership opened new opportunities for me to move into different areas within the organization; from IT and marketing to the operations side of the job.  Without my degree, I wouldn't have had the privilege to expand my horizons and learn as much as I could.
Where do you see yourself in five years?
This is a tough question to answer because even though IT is a passion, business management is a field that can provide me with the opportunity to expand my career horizons beyond information technology.  I also have goals of starting my own business and possibly moving more towards marketing and design.
OUTSIDE THE CLASSROOM
What show/s are you currently watching? Peacemaker.
What is your favorite meal? Lemon and dill salmon filet.
What is your favorite line in a movie? "Let's not stand on ceremony here, Mr. Wayne."
Favorite or most recent book you read? "Don't Sleep on Planes" by Zach Hall
Facebook, Twitter, Instagram, LinkedIn, TikTok, none, all?  None.
List 3 things you would bring to a deserted island.  Satellite phone, sunscreen, and a boat