You are here
Parshotam Lal
BA in Human Relations
Class of 2021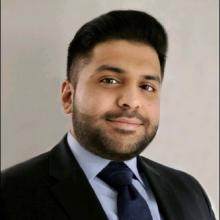 "Coming to CUNY SPS and finding my passion in the Human Relations program really helped me understand who I am and where I want my education to be applied."
What were some of the most defining aspects of your time at CUNY SPS?
For me, some of the most defining aspects were the completion of my undergraduate degree last year. I have been in school since Fall 2016, and it's been quite a roller coaster of a journey for me to have to figure out what I want to do with my career. Coming to CUNY SPS and finding my passion in the Human Relations program helped me understand who I am and where I want my education to be applied. This included getting the chance to do internships, my capstone projects, and much more.
What is the best piece of advice, or most important thing you learned at CUNY SPS?
The most important thing that I learned at CUNY SPS is that our students are very unique and have a lot of heart in them. I tend to hear many stories of the struggles students face and the accomplishments that they achieved. It's amazing to witness how brave they are in overcoming and pushing through the struggles of everyday life and finishing their courses.
Who influenced you the most?
Please feel free to include anyone from the CUNY SPS community, including faculty, staff, or fellow classmates. For me, it was two individuals who helped me in my professional journey. Shannon Gallo from Career Services allowed me to see what career paths I was interested in when I was an intern for Career Services. She gave me the opportunity to work on projects that helped me learn about my goals and career path in life. Next is my supervisor, Anthony Sweeney, who provided me with the freedom to build out Student life Clubs into what it is today. He guided me along the path of the development of clubs and offered feedback along the way. Without that support and guidance, I would not have the confidence that I have today to manage over 21 clubs and counting.
How has your CUNY SPS influenced your current job, and your career overall?
I can say that CUNY SPS helped me launch my career into what it is today. Being the student life coordinator for the School has helped me learn that I am a 100% people person. I enjoy working with students and having engaging conversations with them. Working at CUNY SPS has given me the light at the end of the tunnel that I was looking for to advance in my career. Before finishing my degree, I was unsure where to take my career and what the next big step would be. Then, when I joined the Student Services team, I saw that my path was toward higher education and working with students. I am very grateful for all the opportunities, projects, and the staff in my department who have helped me pave my career along the way to what it is today.
What is the most rewarding aspect of your job?
When I get to see the student leaders that I work with go from being shy and nervous about taking a leadership role to becoming confident in themselves and their ability to lead others. It brings a warm smile and inner joy to see the student leaders tell me how much the position helped them grow as a professional and as an individual. Sometimes students just need a push or perhaps someone to believe in them so that they can accomplish something. I always love the moments when students end up achieving that.
Where do you see yourself in five years?
I see myself continuing to work in the area of higher education, perhaps in a position where I can lead others who were once in my shoes. Part of learning and growing is seeing how effectively you can lead others, which shows your true mastery.
OUTSIDE THE CLASSROOM
What show/s are you currently watching? Yikes, none currently but that indicates that I need to find some good shows on Netflix soon.
What is your favorite meal? Butter Chicken with Garlic Naan.
What is your favorite line in a movie? 15. "A man who doesn't spend time with his family can never be a real man." – Godfather
Favorite or most recent book you read? "The Kite Runner" by Khaled Hosseini
Facebook, Twitter, Instagram, LinkedIn, TikTok, none, all? - All mentioned
List 3 things you would bring to a deserted island. 1. Machete Knife 2. First Aid Kit 3. Tent to sleep in.
Connect with Parsh on LinkedIn.