You are here
Yolanda Ransom
BA in Sociology
Class of 2016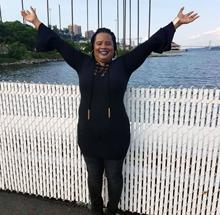 "After graduation, my role in supporting students expanded into facilitating and/or co-facilitating both CUNY SPS orientations each semester."
Why did you choose CUNY SPS?
I chose CUNY SPS because in 2008 I had returned to college and was commuting to my campus three times a week after work, and found it extremely exhausting. I did well in my studies but found it grueling working a full day, then traveling to the campus from my job in Manhattan, and then traveling back home after my classes ended in the evenings. Many nights, I got home close to 11 pm, making it very hard to get good rest to perform well at my job the next day. Plus, the tuition at my school kept going up what seemed like EVERY semester. I did this for about three years, and just couldn't physically keep it up, while maintaining a happy balance at work, school, and at home.
I don't recall how I first found out about CUNY SPS, but I requested some information about it. I was SO excited when I found out that they had fully online degree programs. I knew that CUNY had a great reputation, so I was confident that I would receive an excellent education. What sealed my decision was the fact that my desired program—sociology—was available, and that the tuition for CUNY SPS was close to HALF of what I was paying every semester at my other school.
What most appealed to you about your CUNY SPS program?
What most appealed to me about the sociology program at CUNY SPS was that it challenged me, and helped me learn so much more about myself, society, and the factors that influence our interactions. It fit perfectly with my love of observation and analysis, and my desire to help and serve others. There were also many interesting class offerings allowing me to learn about many aspects of sociology that I was previously unaware of.
How did you find your online/classroom interaction with other students? With faculty?
I thoroughly enjoyed my classroom interaction with other students online. I am an introvert by nature and love to write. So, the discussion forums allowed me to express my thoughts and learning in a way that felt extremely comfortable for me. I also looked forward to reading and responding to the discussions of many classmates, several of whom I took multiple courses with, and really connected with.
I found the faculty to be very helpful overall, and very willing to support me in my studies. From my professors to my academic advisor, to student services, I was able to receive the information and assistance that I needed at each point to flourish in my studies.
What were some of the most defining aspects of your time at CUNY SPS?
Some of the most defining aspects of my time at CUNY SPS were writing and having two of my articles published in the school blog. Two years in a row, I also had the amazing honor of receiving the CUNY Vice Chancellor's Award.
However, the most defining point of my time at CUNY SPS was experiencing the pride and joy of being one of the students invited to be part of the stage party along with CUNY SPS faculty at my graduation. Finally walking across the stage to graduate, with my dear family and husband watching—and being seated on stage with the amazing faculty that supported me as a student--was such an amazing experience!
What is the most important thing you learned at CUNY SPS?
The most important thing I learned at CUNY SPS was the importance of always questioning data and sources. For one of my final project drafts in a sociology course, I had used a report from a well know organization. It was some thoughtful, prodding questions from my professor at the time which helped me realize how much I relied on the "reputation" of the organization, rather than looking closely enough at their findings. My professor's questions motivated me to re-examine their report, which turned out to be somewhat biased in their slant. That brought home for me the importance of not only looking at what IS being reported, but also at what is NOT being reported, to figure out whether information is reliable. It's an important life lesson I still apply to everything.
How has your CUNY SPS influenced your current job, and your career overall?
CUNY SPS has influenced my current job because I actually work here now! I am a new student experience specialist, and I support potential, new, and visiting students during their time here. Back in 2014, while I was still a student, I was invited to work as a part-time peer mentor to support new CUNY SPS students in the New Student Orientation.
Earning my degree in 2016 opened up the opportunity for me to become a facilitator in the orientations at CUNY SPS. After graduation, my role in supporting students expanded into facilitating and/or co-facilitating both CUNY SPS orientations each semester. I now work full-time, supporting interested potential students (through the Jump Start program), facilitating monthly Test Flights for potential students, serving as an advisor to non-degree and ePermit students at CUNY SPS, and supporting new CUNY SPS undergraduate students in orientation each semester!
What is the most rewarding aspect of your job?
The most rewarding aspect of my job is reassuring a nervous/anxious student about their ability to succeed in their studies. When someone is having trouble completing an assignment, or can't figure out how to navigate Blackboard, it is so rewarding to help them understand what they need to do and seeing them finally "get it!" At the heart of it, these students usually have fears that they won't be able to succeed as online students. Helping them to see that they CAN do it, is very rewarding.
Another extremely rewarding aspect of my job is seeing Jump Start applicants complete the process and get admitted to CUNY SPS. Seeing individuals who had almost given up hope (in many cases, for years) that they could ever finish their degrees become students—with the chance to complete their degrees and create better lives—is SO fulfilling!
Where do you see yourself in five years?
In five years, I see myself serving more and more people, helping them to achieve their dreams academically, professionally, and personally.
outside the classroom
Favorite sports? Favorite team? My favorite sport is basketball. I do not have a favorite team—more like favorite players. My favorite players are Allen Iverson and Paul Pierce. Since neither of them plays anymore, nowadays when the NBA playoffs roll around, I just root for whichever team is the underdog!
Favorite movie or TV show of all time? My favorite TV show of all time is The Wire, followed (very) closely by Breaking Bad. I love the complexity of the characters in both shows, and how so often the characters surprise you and don't conform to what we normally expect of people.
Netflix, Hulu, Cable, all three, neither? Cable only—mostly comedies and shows based on real events or people, shows that are "documentary-like".
Favorite NYC attraction or cultural institution? My favorite cultural institution in NYC is the Schomburg Center for Research in Black Culture. It is fairly small, and feels like such an intimate and meaningful place to learn about history and Black culture. They have such a wonderful gift shop, and have such great exhibits and events there all the time!
Favorite music artist/band? Phyllis Hyman and Rachelle Ferrell are my favorite music artists—both are phenomenal vocalists!
Facebook, Twitter, Instagram, LinkedIn, none, all? I use Facebook, Twitter, Instagram, and LinkedIn. I'm on all of these sites with an intended purpose, since I find that social media can be a huge way to get sucked in and eat up time, if not managed purposefully.
Book or e-reader? Favorite or most recent book you read? I love the feel of a physical book, and the ability to write, highlight, and jot my thoughts in it. The most recent book that I read was the Hate U Give by Angie Thomas. I saw the movie first, and it profoundly touched me, so I decided to read the book. It was equally excellent!