You are here
Talia Page
Advanced Certificate in Adult Learning
Class of 2016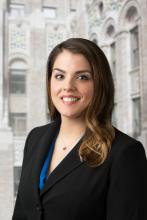 "My CUNY SPS education is guiding decisions I am making about the trajectory of my career as well as how I approach my current job as the manager of education and development for a litigation support technology company."
Why did you choose CUNY SPS?
The Adult Learning program at CUNY SPS met my professional needs and interests, the price was affordable compared to other Schools in the area, and the location worked nicely as it was halfway between my office and home.
What most appealed to you about your CUNY SPS degree program?
I appreciated that the classes were held after work to accommodate my busy schedule and that the student body represented a diverse group of like-minded individuals with similar career goals.
How did you find your online/classroom interaction with other students? With faculty?
The interaction I had with my fellow students was invaluable and provided not just a sounding board for my career frustrations, but also a rock solid support network which I came to rely on for advice and information. The faculty were also all very passionate about adult learning and strengthened my desire to want to make a difference in the professional lives of adults.
What were some of the most defining aspects of your time at CUNY SPS?
I believed I was signing up for an Adult Learning certificate but what I came away with was much richer. My instructors and classmates educated me about other areas such as diversity and inclusion in ways I had no idea I even needed enlightenment!
What is the most important thing you learned at CUNY SPS?
Learning is talking and teaching is listening. I have as much to learn from my adult students as they do from me.
How has your CUNY SPS degree influenced your career?
My passion for adult learning and professional development is stronger than before. My CUNY SPS education is guiding decisions I am making about the trajectory of my career as well as how I approach my current job as the manager of education and development for a litigation support technology company. I am a better employee and educator having learned applicable skills from the faculty and students at CUNY SPS. My textbooks are sitting in my office and I refer back to them often.
What is the most rewarding aspect of your job?
When I see smiles and nods of acknowledgment from students in my training sessions or am able to reach someone who is resistant to learning a new technology, I know I am living my calling.
Where do you see yourself in five years?
My dream job would be to lead a learning and development department at a company involved in some aspect of the entertainment industry such as NBC Talent Lab. I believe CUNY SPS has made me a competitive candidate for these types of roles, and I do see myself getting there within 5 years!
OUTSIDE THE CLASSROOM
Giants, Jets, other, don't care? Knicks, Nets, other, don't care? Mets, Yankees, other, don't care? I'm not much of a sports fan, although I did play soccer in high school and recreationally in college. I do enjoy going to sporting events around NYC but mostly for the snacks! If I had to pick a favorite team, I'd go for the Brooklyn Cyclones whose theme nights make for a very entertaining evening!
Favorite subway line? Least favorite subway line? I always loved the efficiency of the Q line until it broke my heart and stopped running into Queens where I currently live. I'll take anything express! Least favorite is the J, M, Z line. Update the cars already!
Grey's Anatomy, Scandal, both, neither? I've actually never watched either one. My all-time favorite TV show to this day is General Hospital. I get to watch 5 episodes on DVR per week and it will never get cancelled!
Favorite NYC attraction? Favorite NYC cultural institution? I love Coney Island. The bright lights, delicious smells, and sounds of excitement are very nostalgic for me. I also think it's one of the most culturally rich attractions in the city. So much history and great people watching!
Biggie, Tupac, both, neither? Beatles, Rolling Stones, both, neither? Mariah, Nicki Minaj, both, neither? Favorite artist/band? Both Biggie and Tupac (RIP). Beatles & MiMi forever! My favorite band of all time is Pearl Jam and I've seen them live almost 50 times in more than 7 states!
Facebook, Twitter, Instagram, LinkedIn, none, all? I think I like Instagram the most because I love to browse through pictures of food, landscapes, home décor, makeup…and so much more! It's always a source of inspiration for me.
Book or e-reader? Favorite title or the most recent title you read? I'm old fashioned and love real books. I really enjoy compilations of essays by writers who make witty observations about ordinary life. Some of my favorites are Me Talk Pretty One Day by David Sedaris (makes me laugh to tears every time I pick it up!) and Sex, Drugs, and Cocoa Puffs by Chuck Klosterman (the author signed my copy!).