You are here
Romona Betton
BS in Health Information Management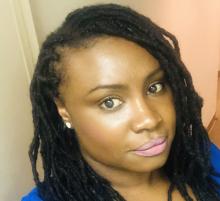 "CUNY SPS provided me the opportunity to broaden my scope within the [health care] field. This has helped me be more versatile in my career and is still helping me today in shaping my career path."
Why did you choose CUNY SPS?
I sought a degree program that was engaging and flexible, and the CUNY SPS admission process was seamless. I also received a personal call from one of the program's faculty members to help me with my career decision. This assured me that CUNY SPS was the place I wanted to be to complete my undergraduate degree.
What most appealed to you about your CUNY SPS program?
I was drawn to the [Health Information Management] program because it comprised several professional areas that I enjoy, such as management, healthcare and information technology. Plus, the flexibility of an online program was the best fit for me.
How did you find your online/classroom interaction with other students? With faculty?
The online classroom was more interactive than I expected. We had to complete group projects and research, similar to a traditional classroom. The professors were very experienced and some are still working in the field. This made learning and our weekly discussions on current health events interesting and engaging.
What were some of the most defining aspects of your time at CUNY SPS?
For our final year project, we were required to interview an individual working in the Health Information Management field and write a report. This project helped me create connections, as well as gain useful insights and tips from a professional in the field.
What is the most important thing you learned at CUNY SPS?
The most important thing I learned at CUNY SPS is that only you can create your own limit. If you keep pushing past the best you think you can do, you will always realize that you can achieve more. At one point I was taking six classes, working full time as a medical office manager, and being a mother to a 4 year old. It was not easy, but I had a great advisor and supportive professors.
How has your CUNY SPS influenced your current job, and your career overall?
I have worked in healthcare for the past 10 years, but always wanted to do more and see things at a higher and more technical level. CUNY SPS provided me the opportunity to broaden my scope in the field. This has helped me be more versatile in my career. My CUNY SPS experience is still helping to shape my career path today.
What is the most rewarding aspect of your job?
Being able to contribute to overall improvement and delivery of quality patient care.
Where do you see yourself in five years?
I hope to complete my Master's Degree in Public Health or Health Information Management. I also wish to continue the path of becoming a director of health information management for a major health organization.
Outside the Classroom
Favorite sports? Favorite team? My favorite sports are soccer and track and field.
Favorite movie or TV show of all time? The Office
Netflix, Hulu, Cable, all three, neither? Netflix
Favorite NYC attraction or cultural institution? Brooklyn Bridge
Favorite music artist/band? Beres Hammond
Facebook, Twitter, Instagram, LinkedIn, none, all? Instagram
Book or e-reader? Favorite or most recent book you read? Book. Most recent book read is The Slight Edge: Turning Simple Disciplines into Massive Success and Happiness by Jeff Olson.