You are here
Rianna Miller
MS in Business Management and Leadership
Class of 2017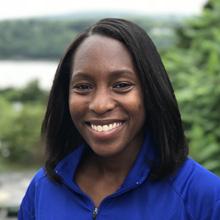 "My amazing experience at CUNY SPS has influenced my current job because it opens the door for me to talk to prospective students about the experience I had."
Why did you choose CUNY SPS?
Before even applying to work at CUNY SPS, I had researched online degree programs as I knew that working full time I did not want to be in a physical classroom. Also, I completed some non-degree courses at the master's level and really enjoyed the hybrid course I had taken. The online component made it easier for me to focus on what I needed to accomplish for work and in my life during the weeks we did not have a face-to-face class. CUNY SPS's program provided exactly what I was looking for in an online program.
What most appealed to you about your CUNY SPS program?
There was no GMAT requirement and the MS in Business Management and Leadership program gave me the opportunity to explore the entrepreneurship side of the business field. I have always entertained the idea of starting my own business on the side, and CUNY SPS provided me with the business essentials to do just that.
How did you find your online/classroom interaction with other students? With faculty?
The interactions I had with other students were a lot of fun. I enjoyed getting to know people from other states and countries. Everyone has a story, and I always found my classmates' perspectives from our online discussions interesting. I greatly appreciated my contact with faculty. They made sure we received the most from every course. I enjoyed my capstone course the most because it was just me and the professor, which allowed us to have in-depth conversations about my work not just via Blackboard but also over the phone.
What were some of the most defining aspects of your time at CUNY SPS?
The most defining aspect of my time at CUNY SPS was my entrepreneurship capstone. I had an idea in my head but really didn't have the opportunity to work it out completely. During this course, I was able to make a complete business plan and the professor was there to provide guidance, offer critiques, and serve as a "sounding board." To see the business idea come to life right before my eyes gave me the confidence that I needed to know I can pursue this dream of mine. Creating a business plan and building a business are no easy feats, but I'm grateful CUNY SPS gave me the opportunity and the space to grow in an area I had little to no experience in.
What is the most important thing you learned at CUNY SPS?
One of the most important things I learned at CUNY SPS was to maintain a healthy school and life balance. There were plenty of times where I had to sacrifice spending time with friends or family to get schoolwork done. I learned that if I planned my schedule out far enough in advance, I could still do the fun things while being successful in my degree program.
How has your CUNY SPS influenced your current job, and your career overall?
My experience at CUNY SPS has influenced my current job because it opens the door for me to talk to prospective students about the experience I had. If a student has a question about how courses are setup in a semester, I can use examples of what I experienced as a student while in the program. The leadership skills and knowledge I gained have assisted my career overall, especially in my role as camp college co-director for NYSACAC. My courses provided me with insights about how to best work with the different constituencies I interact with via this program. It has been very helpful when supervising committee members. My CUNY SPS degree gave me the push I needed to propel my career forward.
What is the most rewarding aspect of your job?
The most rewarding aspect of my job at CUNY SPS is helping students. I enjoy my conversations with students, hearing about their different backgrounds, and how they arrived at CUNY SPS as a potential campus for their degree. Some of the stories are touching and some can be heart-wrenching, but to assist these students in achieving the best option for them keeps me coming back to work every day.
Where do you see yourself in five years?
In five years, I see myself working in higher education but at a higher level where I can utilize all the skills and knowledge CUNY SPS has provided me. I would like to be involved with NYSACAC still and possibly NACAC as a college delegate to become an advocate for those students whose voices need to be heard. I'm currently engaged and I'm hoping in five years we will have already started our family with a child and a dog.
Outside the Classroom
Favorite sports? Favorite team? I love watching tennis, football, and track and field. My favorite sports team is the New England Patriots.
Favorite movie or TV show of all time? Coming to America
Netflix, Hulu, Cable, all three, neither? Netflix and Hulu
Favorite NYC attraction or cultural institution? I love going to any and all museums
Favorite music artist/band? Queen Bey!!!
Facebook, Twitter, Instagram, LinkedIn, none, all? Facebook, Instagram, and LinkedIn
Book or e-reader? Favorite or most recent book you read? I'm a huge bookworm (50 books is the goal for this year)! I'll read mostly on my Kindle app, but I love books too. The most recent books I read and enjoyed is called American Street by Ibi Zoboi.