You are here
Leticia Arroyo
BA in Sociology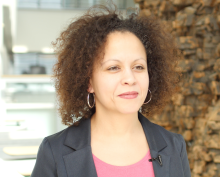 "My degree has helped me shape and view how entertainment impacts society."
Why did you choose CUNY SPS?
Due to personal and professional constraints, I needed to have more time to study and complete my degree--online learning at CUNY SPS created this for me.
What most appealed to you about your CUNY SPS program?
My degree program gave me direct access to professors as well as all the resources a student needs to complete their goals and coursework.
How did you find your online/classroom interaction with other students? With faculty?
It was fantastic! Everyone was always willing to chat or discuss any issues whether online or offline.
What were some of the most defining aspects of your time at CUNY SPS?
Graduation was a defining moment for me! But, most of all, everything I learned from the sociology program, specifically studying society and how we impact our environment.
What is the most important thing you learned at CUNY SPS?
CUNY SPS helped me be a part of a larger community and become a resource to others.
How has your CUNY SPS influenced your current job, and your career overall?
My job is in media entertainment, in all aspects and genres. My degree has helped me shape and view how entertainment impacts society.
What is the most rewarding aspect of your job?
I get to be involved in the production, legal, and research aspect of unscripted programs. Being a part of this process, from beginning to end, and watching the results as programs are released into the world is extremely fulfilling.
Where do you see yourself in five years?
I see myself being in the consumer insights part of media, researching and conducting studies on how we can help shape what people view as well as applying the results of our studies to shape future programming of interest to viewers.
Outside the Classroom
Favorite sports? Favorite team? Not big into sports - but love going to baseball games. Yankees are my favorite.
Favorite movie or TV show of all time? Movie: Wizard of Oz, TV Show: West Wing
Netflix, Hulu, Cable, all three, neither? All three!
Favorite NYC attraction or cultural institution? For me, it's the NYC restaurants :-)
Favorite music artist/band? Madonna
Facebook, Twitter, Instagram, LinkedIn, none, all? All of them.
Book or e-reader? Favorite or most recent book you read? Book. Just finished reading Genius Foods by Max Lugavere.