You are here
Laura Lofaro
MA in Disability Studies
Class of 2010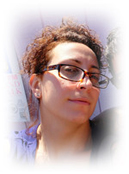 "I feel well-respected having this degree and have brought a wealth of knowledge, experiences, and resources with me to contribute to the program, agency, and the disability field in general."
Q: Why did you choose CUNY SPS?
At the time I applied for the CUNY SPS certificate program, I was working in the disability services field as the supervisor of the Service Coordination department at Lifespire. I heard about the program from a human resources professional and decided to look into it to further my education in the broader disabilities field.  I was thrilled to discover the existence of this new program. Additionally, tuition assistance and a grant were offered to help with funding, and the CUNY Graduate Center where the courses were being held was conveniently located. The course schedule accommodated my full-time work schedule, so I chose to take evening and weekend classes.
Q: What most appealed to you about your CUNY SPS degree program?
I didn't know much about the field of Disability Studies, or that there even was such a topic of study. What appealed to me upon participating in the program was that the professors were from varied disciplines, the student population was diverse, and the course content that was being developed at the time was ground-breaking. This was — and still relatively is — a new field!  I had found a new and exciting program full of individuals with varied experiences and brilliant ideas!
Q: How did you find your online/classroom interaction with other students?  With faculty?
When I enrolled in the certificate program, and subsequently the master's program, they were offered in classroom settings only. As much as I had wished to take online courses, I got out of my shell of shyness and entered the classrooms… and looking back, the dynamic classroom interactions are what I remember and cherish most. I have remained in contact with several of the students as well as some professors and have networked together since. 
I would say that the professors were insightful and enthusiastic. They had an excellent way of formatting the course content, providing us with materials whenever possible, and challenging the students to really delve into topics from various perspectives. We conducted group projects and presentations as well as independent research, and shared it all as we learned from one another. The environment was welcoming of diversity, thus allowing me to be who I am. By becoming knowledgeable about disability history, sharing our unique views and experiences, venting our frustrations in response to media portrayals, responding to assigned readings ranging from court cases to personal narratives,  and looking inside of ourselves to challenge our own beliefs and actions — we discovered personal and political empowerment through each other.
Q: What were some of the most defining aspects of your time at CUNY SPS?
I was proud to be the first graduate of the Master of Arts in Disability Studies program, and was honored by the head faculty and my employer at the time that the first diploma was generated in February 2010. I contributed my research on disability and art to the international Annual Society for Disability Studies (SDS) Conference for the first time. I became more involved with the disability community and participated in an accessibility site survey project throughout New York City, intending to start a website. The project helped me to gain valuable knowledge of existing constructs and constructions, while also providing constructive feedback to business owners and managers regarding accommodations, the expectations of the ADA, and the concept of equal opportunity, highlighting the criteria for enabling environments. The experience has enhanced my own advocacy efforts which have opened many doors.
Q: What is the most important thing you learned at CUNY SPS?
In following with the social model of disability, if the environment can change to enable the disabled person, the person becomes less disabled or not disabled at all. I learned that if inclusion is taught, it will be lived and practiced. I've learned that teaching disability awareness at an early age, whether through schooling, children's books or other methods, is a valuable approach to reducing or eliminating the stigma and hence mistreatment of people with disabilities.  I have learned that the most marketed American values of equality and justice for all are undermined by the importance placed on independence and self-sufficiency. I've learned that many people are not aware of ableism, and hence do not challenge it in each facet of life. I learned that qualitative research is of utmost value, observing and listening to people's lived experiences. I've learned that not "forming" right in the formative years has taken people down various paths of life. And I learned that if you hang out with accepting people, disability pride reigns!
Q: How has your CUNY SPS degree influenced your career?
Upon obtaining my master's degree, I sought advanced career opportunities and was offered the administrative level job that I now hold. I was recommended for the position by colleagues of the agency who happened to be former student peers and knew me from my affiliation with CUNY SPS. I feel well-respected having this degree and have brought a wealth of knowledge, experiences, and resources with me to contribute to the program, agency, and the disability field in general. I also feel confident contributing my knowledge to committees and events that I partake in.
Q: What is the most rewarding aspect of your job?
I am currently a Program Coordinator for HeartShare Human Services of New York, overseeing the daily operations of a day program with approximately 120 participants and a staff of 50. It is rewarding to collaborate with an ambitious team to expand the horizons of the program and make the changes that will benefit the individuals as well as the world as a whole by knocking down barriers and providing opportunities for real inclusion and enhanced quality of life.
Q: Where do you see yourself in five years?
While living and working in NYC, I have become familiar with the urban disability related systems and innovative ways of thinking in city life. I plan to take what I've gained through my education and career in the field of disabilities to a new locale, yet to be determined. Whether Upstate New York or out-of-state, I plan to immerse myself in disability communities everywhere, advocate to every capacity, promote disability pride, and celebrate life with all of its human variation. I feel confident that I won't have difficulty advancing on my career path with the degree I earned through CUNY SPS. I also create artwork with my photography and have written children's books which I hope to publish. I plan to continue contributing toward the goal of equality and making the most of what we have in this lifetime.
Finally, I am recently engaged to my partner who I met through the new job which I obtained with my CUNY SPS degree. I suppose one thing leads to another. We are raising 3 young children and multiple pets, so a move to a more spacious living environment may be called for.