You are here
Kristen Clonan
MS in Business Management and Leadership
Class of 2013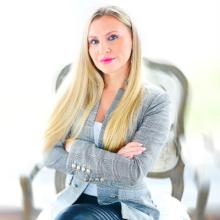 "The curriculum gave me the bravery to be a solutions-oriented thinker. It also taught me about the importance of both stakeholders and shareholders, and the idea of maximizing value across sectors..."
Why did you choose CUNY SPS?
Deciding to go back to school after the 2008 financial crisis was tough. A lot of factors played into my decision when I was looking for graduate schools,: flexibility, affordability, and a NYC-based campus. I enjoy the busy-city hustle and bustle.
What most appealed to you about your CUNY SPS program?
While I received scholarships for my undergraduate studies, like most, I still graduated with debt. For this reason, it was important to me to keep the job that I landed in the sports industry while getting a business education. That way, I could pay off my debt while growing my career and saving.
Back then, CUNY SPS was the only remote business management curriculum in New York at the graduate level with the open opportunity to visit its NYC campus anytime. This allowed me to conduct my work in a hybrid format, both online and in person (well before it was popular to do so). I really enjoyed having a quiet place to study, so I visited the Mina Rees Library at The Graduate Center often.
At the time, I was always traveling for work so all of my homework was done on flights, trains, and before/after coast-to-coast media events. I was lucky enough to meet with my group(s) in person whenever we needed to do so. The silver lining: I was able to do this without the guilt of missing a class or having to choose between deeply complex priorities.
How did you find your online/classroom interaction with other students? With faculty?
I really enjoyed it.
What were some of the most defining aspects of your time at CUNY SPS?
The most defining aspect of my time at CUNY SPS was learning more about corporate responsibility in the context of global business.
I have always been a proponent of social impact and sustainability, yet I was focused on working in a corporate environment. Back then, these areas were mutually exclusive and had separate career paths. I sought to change that within my career ever since. The curriculum gave me the bravery to be a solutions-oriented thinker. It also taught me about the importance of both stakeholders and shareholders, and the idea of maximizing value across sectors/stakeholders.
What is the most important thing you learned at CUNY SPS?
I learned to put my heart at the center of everything I do, trust my gut, embrace my roots, and let intuition be my guide throughout my life and my career.
How has your CUNY SPS influenced your current job, and your career overall?
Graduate education helped give me the context needed to succeed in global business and thrive in crisis. There is no "one size fits all" strategy - every market, company, culture, and sector is different. The best leaders focus on human behavior and build from that.
What is the most rewarding aspect of your job?
Problem-solving, careful risk-taking, and seeing projects, people, and transformative thinking gain traction. There is nothing like an underdog.
Where do you see yourself in five years?
Sky is the limit.
OUTSIDE THE CLASSROOM
Favorite sports? Favorite team? NY Yankees and NY Rangers
Favorite movie or TV show of all time? Schitt's Creek
Netflix, Hulu, Cable, all three, neither? Netflix
Favorite NYC attraction or cultural institution? The New York Botanical Gardens
Favorite music artist/band? My taste varies by my mood. This week I am listening to Incubus.
Facebook, Twitter, Instagram, LinkedIn, none, all? LinkedIn
Book or e-reader? Favorite or most recent book you read? Book, Angela Duckworth's Grit