You are here
Katherine Smith
Advanced Certificate in Disability Studies and MA in Disability Studies
Class of 2009 and 2012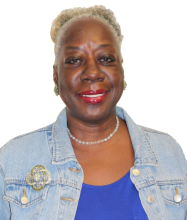 "My CUNY SPS master's degree in disability studies allows me to approach my job in a much different light....providing a more objective assessment."
Why did you choose CUNY SPS?
CUNY SPS staff's presentation at the information session motivated me to apply to the program.
What most appealed to you about your CUNY SPS degree program?
I was most interested in the class size and CUNY SPS's committed staff, which fit my needs the most.
How did you find your online/classroom interaction with other students? With faculty?
The experience was different, but challenging and rewarding.
What were some of the most defining aspects of your time at CUNY SPS?
My degree has made me more reflective and broadened my assessment skills, which is important in the work I do for children with developmental disabilities or serious emotional disturbance.
What is the most important thing you learned at CUNY SPS?
At CUNY SPS, I learned the importance of researching and life trajectories. I also enjoyed writing final papers.
How has your CUNY SPS degree influenced your current job and your overall career?
My CUNY SPS master's degree in disability studies allows me to approach my job in a much different light. I am no longer supervising and training caseworkers but looking over their work, providing a more objective assessment of required documents and documentation. Though I am semi-retired, my experiences have allowed me to excel in a field that I did not work in primarily.
What is the most rewarding aspect of your job?
I find editing and record reviews very rewarding.
Where do you see yourself in five years?
In five years, I see myself as a professional consultant.
---
Outside the Classroom
Favorite sports? Basketball and football
Favorite movie or TV show of all time? Aliens is my favorite movie.
Netflix, Hulu, Cable, all three, neither? I watch cable.
Favorite NYC attraction or cultural institution? Any and all museums.
Favorite music artist/band? My favorite artists are the Temptations and Rolling Stones.
Facebook, Twitter, Instagram, LinkedIn, none, all? I only use Facebook.
Book or e-reader? I prefer physical books.