You are here
Jade Powell
MS in Disability Services in Higher Education
Class of 2020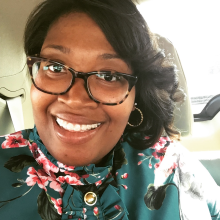 "My degree has really helped me pull together resources to share with my students, and has added to my experience working in higher education."
Why did you choose CUNY SPS?
I chose CUNY SPS because I loved the flexibility of the online courses. At the time when I was a student, I could take classes in person or fully online.
What most appealed to you about your CUNY SPS program?
I appreciated the fact that this was a new program that was different. It was one of a kind and, working in higher education, I wanted something that was going to be challenging and would give me the skills to evolve as an academic advisor.
How did you find your online/classroom interaction with other students?  With faculty?
The online interaction with other students was great! I enjoyed our discussion board conversations. I was really able to learn from my classmates. Everyone brought something to the table. The faculty demonstrated helpfulness, as well. From Skype chats, to phone calls, to emails, they were very helpful.
What were some of the most defining aspects of your time at CUNY SPS?
One of the most defining aspects, I would say, was having the opportunity to be a Kennedy Fellow. That was definitely a highlight for me. Receiving some amazing professional development through Ms. Carrie Shockley who is the director of the JFK Jr. Institute really helped me as a student and higher education professional.  I also was able to learn from my peers who were also Kennedy Fellows.
What is the most important thing you learned at CUNY SPS?
The most important thing I learned at CUNY SPS is to never give up and keep pushing through. There were many days when I wanted to give up and end my studies, but the faculty and my classmates made me not follow that decision after the great interactions with them.
How has your CUNY SPS influenced your current job, and your career overall?
I currently work for the Borough of Manhattan Community College for a program called ASAP, which stands for Accelerated Study in Associate Programs. We assist students during their time in school. Getting my master's in Disability Services in Higher Education has helped me to be of extra help to students who have different disabilities. CUNY SPS, the coursework, and feedback from faculty provided me with that extra guidance in disability services. My degree has really helped me pull together resources to share with my students, and has added to my experience working in higher education.
What is the most rewarding aspect of your job?
The most rewarding part of my job is seeing my students graduate and seeing them win in life. Those moments are the moments that I live for and enjoy. It makes my heart smile to know that they have broken down barriers that were in their way and pushed through difficult situations to get to where they are. I have always appreciated those moments as an advisor.
Where do you see yourself in five years?
I see myself still working in higher education as a director of a college access program. 
Outside the Classroom
Favorite sports? Favorite team? I'm not a sports person. Sorry.
Favorite movie or TV show of all time? Living Single
Netflix, Hulu, Cable, all three, neither? Hulu and Cable
Favorite NYC attraction or cultural institution? Empire State building
Favorite music artist/band? Beyoncé
Facebook, Twitter, Instagram, LinkedIn, none, all?  Facebook, Instagram and LinkedIn.
Book or e-reader?  Favorite or most recent book you read?  I could do both. My favorite book of all time is To Kill a Mockingbird by Harper Lee