Duubar E. Villalobos Jimenez
MS in Data Science
Class of 2019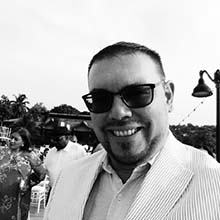 "Since my master's program was 100% online, I had the experience as to how to cope with online work activity. When COVID hit, and everything became remote, I was able to switch gears seamlessly."
What were some of the most defining aspects of your time at CUNY SPS?
I come from a very small town from rural areas in Costa Rica. My family and I used to farm the land. I was 23 years old when I arrived at the United States. I spoke little to no English and worked many different jobs to meet ends.
There were a few defining aspects during my time at CUNY SPS. The first one, was the online Bridge program. I was afraid I could not be able to successfully complete the program since it took me 16 years to go back to school. I was a full time working adult, and felt that my English communication skills were not as great as I really thought it needed to be. Little did I know that I was capable of doing it, and I enjoyed every single minute very much.
Other defining aspects were the induction to the NSLS (National Society of Leadership and Success). The nomination to the CUNY Malave Leadership Academy. When I teamed up with other CUNY SPS student leaders to help create "The Kiosk", the first online news platform from students for the students. Trips to Albany, NY and Washington, D.C. to speak with Legislators to advocate on behalf of CUNY students. An award from the Student's Association to attend a Data Science conference in Boston, MA. In which I met renowned world leaders in the Data Science world. The participation in the CUNY-IBM Social Impact challenge in which I was a semi-finalist. The first ever CUNY SPS & CUNY Baruch College Capstone graduation collaboration project; in which I teamed up with Dipika Shrestha --an International Studies' master student, to work on our common interest research topic: "YouTube's automated transcription process, and it's accuracy for non-native English speakers with foreign accents". Another defining aspect was during the time I spoke about the challenges the technology brings to those who rely on it, during the CUNY Accessibility Conference, back in 2020. The most recent, I was invited to participate in the Culture of Care working group for the Strategic Planning Steering Committee at CUNY SPS. As you may notice, my life had a complete transformation thanks to CUNY SPS and the decision I made.
What is the best piece of advice, or most important thing you learned at CUNY SPS?
Not to be afraid. Now, reflecting on my past, I realized that I was holding myself back. I was afraid of failure. I postponed my quest for knowledge for many years, thinking that I needed to improve my English skills to perfection. I was under the impression that higher education was highly costly, and that I needed the money up-front to pay for it. Little did I know that those things were not true. Years later, I now realized that there's plenty of great advisors within and outside the school. I find them to be very charismatic and willing to help to the best of their abilities. I will recommend reaching out the school's advisors and ask as many questions as possible. They will be happy to guide you.
Who influenced you the most?
Many people influenced me a lot! Anthony Sweeney, Associate Director, Student Life; without Anthony, I could not have reached any of my current success! Students Lisa Sheridan, Milan Fredericks, Tara Santos; for their leadership and service passion, professor Jamiel Sheikh for his way of leading technological transformation, and of course Founding Dean John Mogulescu for his thoughtful lifetime work.
How has your CUNY SPS influenced your current job, and your career overall?
I feel that my current job is a continuation from CUNY SPS. I am Data Analyst, with Data Science background, working on a Senior Level Workforce Management position for a fortune 500 company. My day to day involves billions of data points, representing hundreds of thousands of employees, and millions more as customers. My task is to serve those who serve customers by taking away friction points that prevent them from performing their job in an optimal way. Since my master's program was 100% online, I had the experience as to how to cope with online work activity. When COVID hit, and everything became remote, I was able to switch gears seamlessly. Thus, keeping up productivity and helping other team members to better adapt to this new work environment, in which office space is no longer required. Overall, CUNY SPS has influenced me in many ways, as a thoughtful leader, as a scientist, as an advocate, and as a trailblazer. Something I did not imagined before my first day of school.
What is the most rewarding aspect of your job?
Knowing that I work with great team members for a company that cares about the communities we serve. Knowing that my inputs are valued, and that my work is meaningful in many ways. Knowing that my time is respected and valued. Knowing that I can fail and learn from it.
Where do you see yourself in five years?
I see myself as someone who grows in the leadership and philosophical world. Someone who loves to inspire, transmit knowledge based on experience, and guidance for those who come after me. I see myself as a mentor, a teacher, a friend. I see myself as a family member who enjoys quality time, and enjoy traveling, tasting new foods, living new experiences, and discovering new places. I see myself as someone who is not afraid of failure, someone who knows that everything is possible if I no longer hold myself back.
OUTSIDE THE CLASSROOM
What are you currently watching?
What is your favorite meal?

Gallo pinto (Costa Rican breakfast dish)

What is your favorite line in a movie?

"To be, or not to be? That is the question"

Favorite or most recent book you read?

The Allegory of the Cave, Book by Plato

Facebook, Twitter, Instagram, LinkedIn, TikTok, none, all?
List 3 things you would bring to a deserted island
A boat, a crew, refreshments. It's party time!