You are here
Carolina Moquete
Advanced Certificate in Youth Studies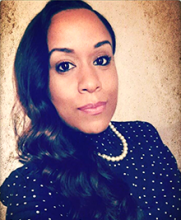 "It definitely empowered me to have a certain level of confidence in the work I was doing with young people that I didn't necessarily have in my first year in the role."
Why did you choose CUNY SPS?
I chose CUNY SPS because I was looking for a school that was relatively close to my home and work. CUNY SPS offered a degree program that was relevant to my field.
What most appealed to you about your CUNY SPS degree program?
I really liked that the Youth Studies program was introduced right at the time that I was transitioning from working with a more mature, adult population in higher education to a less worldly, young adult population in the high school setting.
How did you find your online/classroom interaction with other students? With faculty?
I absolutely loved my classroom interactions with my classmates! We all meshed together really well and were all genuinely passionate about working in the field with young people. Having colleagues that were equally involved in the work they were doing and had the ambition to want to continue investing in themselves and developing beyond their current skill-set was empowering to experience.
What were some of the most defining aspects of your time at CUNY SPS?
A few of the most defining aspects of my time at CUNY SPS was when I got the idea to develop a WhatsApp group chat with the other students in my class to build a sense of community and camaraderie outside of the classroom. Being able to participate in the graduation in May 2017 with the majority of my cohort was also a highlight for me. I hadn't been at a graduation in ten years, so that was a really exciting and humbling moment for me. It was a short snippet of my life, but a truly impactful one that I'm glad I had the chance to honor and celebrate.
What is the most important thing you learned at CUNY SPS?
I learned so much – I mean professionally, I learned how to really interact with students in ways that resonated on a deeper level: ways of seeing the world through their unique, young adult lens, ways to support and mentor them in healthy and professional ways, and activities that would help them think outside the box about the world at large. On a personal level, I learned that creating true relationships outside of the workplace in a school setting was both therapeutic and necessary – especially in a graduate level environment. There is no way I could have made it through that strenuous year without the support and encouragement of my classmates.
How has your CUNY SPS degree influenced your current job, and your career overall?
The Advanced Certificate in Youth Studies was a true blessing for me. It really impacted the way I approach my work, not only after I graduated – but while I was in the program. Almost everything I was learning and covering in my classes (whether it was Youth Development and History of Adolescence or Group Work with Youth and Youth Participatory Action Research) had an immediate impact on my work with students as a college & career advisor. It definitely empowered me to have a certain level of confidence in the work I was doing with young people that I didn't necessarily have in my first year in the role. I whole-heartedly recommend this program to anyone who's currently working with young adults or thinking about working with young adults. It provides you with a much greater context about the importance of developing relationships with young people that surpasses fulfilling your job duties – it really helps you establish a framework that can help propel you to having a greater influence in their lives long after you've worked with them.
What is the most rewarding aspect of your job?
The most rewarding aspect of my job as a college & career advisor is really getting to work with young adults that are on the cusp of discovering the greatness that lies within them. The turnaround that happens at this age is unmatched. I can have a student that goes from unmotivated and disengaged to fulfilled and involved in leadership roles within a few months. Seeing that transition and growth on a regular basis is so rewarding. I have the privilege of being allowed into their lives as they make important decisions, like selecting a college or deciding on a major.
Where do you see yourself in five years?
In five years, I hope to continue my work with young people either on the high school side or college side of the desk in a program director capacity. I also want to continue working with non-profit organizations that serve disconnected youth with life skills, college planning, or career planning. Maybe I'll also start working as a life coach. I'm not sure. The sky is the limit! I do know that helping others take steps to fulfill their potential is a great passion of mine.
Outside the Classroom
Favorite sports? Favorite team?
I love watching basketball games. I don't really have a favorite team, but I do favor strong players/leaders on the court like Lebron James, Steph Curry, Kevin Durant, Dwayne Wade, Allen Iverson
Favorite movie or TV show of all time?
I know this sounds cheesy but I love Pretty Woman and Dirty Dancing. Rom-Coms are my favorite. I don't watch much TV but I'm a diehard Power fan
Netflix, Hulu, Cable, all three, neither?
Netflix or Amazon Prime
Favorite NYC attraction or cultural institution?
I love everything about the city. I like the Intrepid Museum, Central Park, The American Museum of Natural History,
Favorite music artist/band?
I like ol' school 90's R&B: Aaliyah, Alicia Keys (first 3 albums), Jodeci, Jagged Edge, Blackstreet, Shai, TLC, 702, SWV, etc. I still have this in heavy rotation on Pandora.
Facebook, Twitter, Instagram, LinkedIn, none, all?
I have all of them but I'm probably on Instragram the most and Twitter the least. They each have their benefits so it really depends on my mood.
Book or e-reader? Favorite or most recent book you read?
I have a Kindle but I prefer reading actual books when I'm on the train, and E-Reader on planes. Most recent book I read was "All We Ever Wanted" by Emily Giffin. I think she's an amazing writer and really develops her characters and storylines well. You feel like you know them or know someone like them. Very relatable and easy to read. She's one of the few authors I've actually made a point to read all of her books.