You are here
Caridad Muñoz
MS in Business Management and Leadership
Class of 2016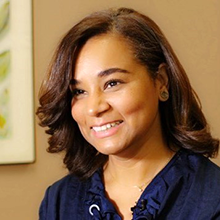 After I completed my degree, I was able to leverage what I learned in order to do more in a leadership role.
Why did you choose CUNY SPS?
I graduated from a CUNY BA program. My entire background from my associate's degree to my bachelor's degree was very technical and I wanted to enhance my leadership and business skills.
What most appealed to you about your CUNY SPS program?
CUNY SPS offered me not only the convenience of an online degree, but the flexibility to balance my work and attend graduate school at the same time.
How did you find your online/classroom interaction with other students? With faculty?
My best experience of taking the online degree was networking with my classmates. I remember in one class we had to do a group project. Our group was like a family and we maintained that connection. We built an incredible network that encouraged each other every semester until we all completed the degree, and even now after graduation.
What were some of the most defining aspects of your time at CUNY SPS?
To choose one word, determination. I managed to maintain my full-time job and personal life. Even though I was going through difficult times, I kept a positive attitude and determination to complete my degree.
What is the most important thing you learned at CUNY SPS?
The most important thing for me was learning how to become an effective leader, and business and leadership skills was what I needed.
How has your CUNY SPS program influenced your current job, and your career overall?
After I completed my degree, I was able to leverage what I learned in order to do more in a leadership role. I love giving back by serving on discussion panels to encourage current students become leaders. My last talk was on "How to be a Leader in the Digital Era!"
What is the most rewarding aspect of your job?
As a creative technologist for CUNY's LaGuardia Community College, I get to implement my vision and creativity in every single project. I have an amazing team of creative developers and designers.
Where do you see yourself in five years?
As technology evolves, I see myself changing with the time. I see myself as a CEO of my own company. I would love to continue my passion of empowering female minorities to take on more careers in STEM.
Outside The classroom
Favorite sports? Favorite team?
Baseball/Boston Red Sox
Favorite movie or TV show of all time?
The Notebook (both the movie and book)
Netflix, Hulu, Cable, all three, neither?
Definitely Netflix
Favorite NYC attraction or cultural institution?
The Met
Favorite music artist/band?
Phil Collins, Genesis
Facebook, Twitter, Instagram, LinkedIn, none, all?
Instagram
Book or e-reader? Favorite or most recent book you read?
Most recent book: The Lean Startup by Eric Ries