You are here
Beatriz Gil
Advanced Certificate in Immigration Law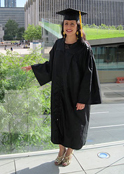 "The program confirmed my passion for law and my desire to pursue law school."
Beatriz A. Gil is a graduate from the Advanced Certificate in Immigration Law program. She is currently a Special Projects Coordinator, at the CUNY Murphy Institute for Worker Education and Labor Studies, where she liaisons with CUNY colleges, labor unions and community organizations to develop new academic partnerships and programs. She recently helped organize an Immigration Reform Forum in collaboration with the CUNY Citizenship Now! Project and Baruch College.
Beatriz has served children, youth and immigrants through advocacy and education in various community-based organizations. While at the New York based Vera Institute of Justice, she worked in alternative-to-incarceration and re-entry programs for court involved youth, and coordinated program logistics for federally funded pilot programs for unaccompanied children and adults in immigration proceedings.
Beatriz is also an emerging visual artist and writer. She writes memoirs, creative non-fiction, and poetry about her experience as a child of new immigrants growing up in Southern California after leaving Mexico City in the late 1980s. She is part of a Queens-based writing group that emerged from Our Side, a creative non-fiction writing workshop on cultural identity. Her interest in immigrant issues was a natural fit with the Immigration Law program.
"My experience at CUNY SPS was motivating in that my class schedule allowed me to balance my work and personal life. I enjoyed the hands-on assignments and the rigor of the courses as well as being in a classroom setting with a diverse student population. The program confirmed my passion for law and my desire to pursue law school."