You are here
Angie Fuoco
Advanced Certificate in Disability Studies
Class of 2016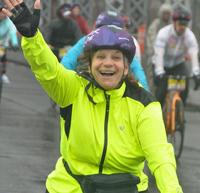 "Because of my CUNY SPS certificate, I'm tasked with more responsibilities for helping people with disabilities, which I love to do."
Why did you choose CUNY SPS?
I chose CUNY SPS for its renown in the disability studies field and online programs. I received an Advanced Certificate in Disability Studies to build on a Master's in Public Health I received from the University of South Florida in 2013. I needed an online program because I live in Decatur, Georgia.
What most appealed to you about your CUNY SPS certificate program?
Pursuing my certificate online allowed me to study for multiple programs at the same time. My workplace approved a program of study including the certificate in disability studies, as well as studies at other institutions related to the ADA, accessibility, and accommodations.
How did you find your online/classroom interaction with other students? With faculty?
I enjoyed the interactions - they were writing-based v. oral-based as in a classroom. This was great for me, as I didn't have to struggle with my hearing loss. And allowing more time for reflection, written-based interactions can afford richer conversations than those of day-to-day in-classroom discussions. Conversational threads often took on a life of their own and led to depths of learning we may never have gotten in class.
What were some of the most defining aspects of your time at CUNY SPS?
Lifelong friendships were formed. Classmates and I purposed to meet in person and continue to be part of each other's lives and I met most of my amazing professors in either Atlanta or New York. I got to celebrate the Dean's Dinner at the Empire State Building and graduate at the Lincoln Center with my classmates!
What is the most important thing you learned at CUNY SPS?
An ever-increasing respect for balancing my own and others' disabilities in work-life interactions and kindness as accommodation.
How has your CUNY SPS certificate influenced your current job, and your career overall?
Because of my CUNY SPS certificate, I'm tasked with more responsibilities for helping people with disabilities, which I love to do.
What is the most rewarding aspect of your job?
Working in public health, one person at a time. I work in my agency's safety office. It's truly rewarding to make connections in the workplace to services that will help keep my colleagues safe, and as included and engaged as possible.
Where do you see yourself in five years?
As President of ASHER Consulting and Communications Company, my own company, not yet formed. "Asher" means "blessed" in Hebrew and is an acronym for all of my experience in: Accessibility, Safety, Health, Environment, and Response. Most important though, it's because I'm blessed!
Outside the Classroom
Favorite sports? Favorite team? Any Pittsburgh Team or Penn State (my heart grew up in those places)
Favorite movie or TV show of all time? La Vita e Bella (Life is Beautiful in Italian)
Netflix, Hulu, Cable, all three, neither? No TV in my house!
Favorite NYC attraction or cultural institution? Walking the High Line, concerts, and I'm riding in the TD Five-Boro Bike Tour in May
Favorite music artist/band? Messianic worship music, 60s/70s/80s, Michéal Castaldo
Facebook, Twitter, Instagram, LinkedIn, none, all? @Angie L Fugo-Fuoco on Facebook
Book or e-reader? Favorite or most recent book you read? Recently, I finished (in paperback) Short Stories by Jesus: The Enigmatic Parables of a Controversial Rabbi by Amy Jill-Levine, a thoughtful, well-researched read on the Jewish perspectives that likely would have been drawn from those parables.