You are here
Allan Goldstein
MA in Disability Studies
Class of 2015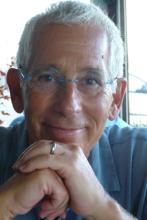 "The school respects the schedule of a full-time employed person, so hybrid (online and in person), evening, and Saturday offerings are typical; I appreciated that I could complete the degree in a reasonable amount of time while keeping my day job."
Why did you choose CUNY SPS?
The CUNY SPS advanced certificate program in Disability Studies intrigued me for many years. When I was finally committed to obtaining more information than I was getting from the haphazard selection of disability reading material, I knew where to go. Coincidentally, I happened to reach out to Mariette Bates, the program's director, with a disability question I was researching. She invited me in and talk came around to the existing MA program. That talk became my official interview. It is the only free-standing MA program in Disability Studies, and it has a successful track record; it is affordable; Mariette Bates, who established and directs the program is a smart woman; and the faculty is varied in its specialties, which makes for interesting courses.
What most appealed to you about your CUNY SPS degree program?
I loved the interaction with the students and the instructors both in class and online. The school respects the schedule of a full-time employed person, so hybrid (online and in person), evening, and Saturday offerings are typical; I appreciated that I could complete the degree in a reasonable amount of time while keeping my day job.
How did you find your online/classroom interaction with other students? With faculty?
Being mostly adults with life experience and working in the field, the time together online and/or in the classroom was respectful, informative, and to the point. I like traveling through the coursework almost as a class. The faculty was always available with a chock full of information, before, during, and after class and online.
What were some of the most defining aspects of your time at CUNY SPS?
Certain courses provided an excellent bedrock for my professional career—History of Disability was a big one.
Making professional bonds with classmates, such as Jason Schneider and Dan Chan. Jason is now a colleague I often see at disability events. Dan was intrigued by the work I was doing with United Cerebral Palsy of New York City, now ADAPT Community Network, and suggested involving the agency that was then employing him. One year later, HeartShare Human Services became the second section of my Disability Studies course.
What is the most important thing you learned at CUNY SPS?
I entered the program seeking the silver bullet that would encourage the inclusion of all people into society, particularly the 20% of our population in the United States who identify as having a disability. I graduated from the program understanding that the answer was economic—show that people with disabilities are participating in the workforce as employees and entrepreneurs and are therefore paying taxes and providing a large consumer market.
How has your CUNY SPS degree influenced your career?
It has made my career. I've always been a late bloomer. I was teaching first-year writing and then entered the Disability Studies program at CUNY SPS. I introduced disability studies to my department at the NYU-Tandon School of Engineering. As NYU has many courses related to disability, such as in the Anthropology department, it became clear that we should begin a minor in Disability Studies. The cross-school minor began in the fall of 2016 with my course as one of three core courses.
What is the most rewarding aspect of your job?
Observing how disability awareness begins to affect the behavior of my students and colleagues. It is cliché, but still true—student self-reflections at the end of the course often report how the experience has changed their lives. Many students go from a "me-me" view of the world to a service attitude—one went from desiring to be a plastic surgeon to seeking a PhD in Higher Education. The PWDs participating in the course, to whom I refer to as consultants because they are teaching what life is with a disability, are increasing their self-esteem and entering the workforce. One consultant developed with the engineering students a stylus to enable those with finger dexterity issues to use a keyboard; and by request, he adapted it so that a person could hold a paintbrush. His business is flourishing. Others are preparing resumes, attending job interviews and winning positions.
Where do you see yourself in five years?
To establish community leaders among the disabled population, I expect I'll be combining classroom work with global consulting on the development of experiential Disability Studies courses. Perhaps wheelchair repair outside the seller will finally be permitted without invalidating the warranty, thereby allowing my students and consultants to speed up the process. And maybe because society has comprehended that we humans are all just living differently, I'll be celebrating the demise of the term disability.
Personal Highlights:
The Ability Exchange, the documentary about my experiential Disability Studies course; released December 2016
2015 CUNY SPS Showcase e-Portfolio
Outside The Classroom
Giants, Jets, other, don't care? Knicks, Nets, other, don't care? Mets, Yankees, other, don't care?
My younger brother Fred, who is a Willowbrook survivor, favors the METS. If anything, I like minor-league ball, such as the SI Yankees and the Cyclones, as I am closer to the action and enjoy spotting talent. I am a watcher of championship games in all sports. As a participant, I played shortstop on various Central Park softball teams until one day when the ball was hit to my right I thought, oh, never mind. I am an avid swimmer.
Favorite subway line? Least favorite subway line?
My favorite subway line is the newly established 2nd Avenue Q, which would have gotten me to classes so much easier. Least favorite is the F-line, as my students are always delayed. Although, because of consultants' petitioning, the MTA has installed an elevator at an F-line stop nearby an ADAPT Community Network day program.
Grey's Anatomy, Scandal, both, neither?
Because I lost too much time to TV while growing up, I only watch news programs and the occasional movie and as mentioned above, championship games. I had the opportunity to view the first and final episodes of Breaking Bad and found the material to be inexplicably too violent. Any discussion in the classroom about popular TV, etc., goes right over my head.
Favorite NYC attraction? Favorite NYC cultural institution?
Coney Island is my favorite NYC attraction, maybe because I grew up in nearby Sheepshead Bay, but also because I'm a sucker for Nathan's French fries and large multi-colored candy lollipops, and the Wonder Wheel. CI may also be considered a New York City cultural institution, as it has long housed the Freak Show. But if pressed to select another favorite NYC cultural institution, it would be Lincoln Center for its Performing Arts Library, theatre, opera, ballet, and film, not to mention its outdoor offerings, which include Swing Dancing and, until its recent demise, the Big Apple Circus.
Biggie, Tupac, both, neither? Beatles, Rolling Stones, both, neither? Mariah, Nicki Minaj, both, neither? Favorite artist/band?
Beatles, Rolling Stones, Nina Simone, Motown, Petula Clark, Bonnie Raitt. The 50's, 60's, and 70's shaped me. Otherwise, reggae and new sounds and while cooking, classical—goes with the wine.
Facebook, Twitter, Instagram, LinkedIn, none, all?
I'm involved with social media only because it enables me to reach many people with little effort, but because of its impersonal nature, I feel it distances me from my contacts. Haven't investigated Instagram, but then, I still don't know how to get my cell phone connected to FB.
Book or e-reader? Favorite title or the most recent title you read?
Reading from a screen does not appeal to me—I do that enough when reading student assignments. I need the paper, even though my wife and I travel a great deal and often bemoan the fact that much of our luggage is books—we only do carry-on. Most recently read is The Sympathizer by Viet Thanh Nguyen, which I found exceptionally interesting because my wife and I spent much of this past winter break in Viet Nam. Favorites are The Elephant Whisperer by Lawrence Anthony, which was recommended to us by our guide during a stay at a South African elephant camp and Soul of an Octopus by Sy Montgomery, most probably because my wife and I often make swimming the deciding factor on where we will travel, and it is heartening to learn that our open water buddies are smart and affectionate. But maybe my most favorite book to date is A Man Called Ove by Fredrik Backman. Ironically, it is only after just seeing the film half a year after reading it that I realize the story is loaded with disability—from chronic to temporary, from young to old, from emotional to physical. A wonderful story about inclusiveness. A story proving that we are all just variations on the theme of being human.