Lisa Sheridan
BA in Communication and Media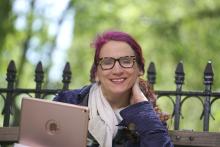 "In school, I don't need to have all the answers. I can give myself permission to ask questions and learn from other people. It has been a very liberating experience."
Why did you choose to continue your education at CUNY SPS? Why the online BA in Communication and Media?
When I returned to school after 32 years, (is that a record?) I knew my only option would be online learning. Research showed me that CUNY SPS has one of the best online bachelor's degree programs in the country. Even better, my family has a proud history with CUNY since my stepdaughter went to City College and was the recipient of the Colin Powell fellowship. It was exciting to think that I could build on that tradition.
I am trying to make a late in life pivot. For several years, I have been working on a novel. Communication and Media was the closest I could get to a creative writing degree, so I signed on.
Did you ever think that you would enroll in an online program?
If only online was an option 30 years ago! I started taking online courses through Cal Arts, Coursera, Lynda, and Skillshare prior to CUNY SPS. I have several certifications from online non-matriculated classes. An online BA seemed like a natural progression. I only wish I started sooner.
What was your motivation for returning to complete your bachelor's degree?
Survival was my motivation for returning to school to complete my degree. My career has been in fashion design. While many creative fields have not traditionally required degrees, the advent of applicant screening software is changing the rules. The software frequently screens out resumes without a bachelor's degree, so often I wasn't even making it to the hiring manager's desk.
Which aspects of the program have you enjoyed most so far?
Attending CUNY SPS has been one of the best decisions of my life, ranking second only to my decision of having a child. Choosing a most enjoyable aspect is an impossible task because I am so happy with my decision.
What is your relationship like with your classmates and professors?
Online learning can feel aloof and remote at times. Most of my classes have collaborative projects, but true to our virtual platform, I rarely meet the people on my assignment's team. I am finding ways to deal with that sense of detachment. I try to stay active on campus. When Student Services sends me an invite, I really try to make it happen. I am grateful that I have the opportunity to serve on the Student Association. These things help with digital distance and I would encourage other students to take advantage of as many analog involvements as possible.
How does the degree relate to your career that you have OR the career that you want?
The career adjustment I am attempting is challenging. Starting over in the 11th hour requires energy, creativity, and a willingness to roll with the punches. I am waiting to see what this journey presents.
Which professional or personal goals would you like to achieve during your time at CUNY SPS?
I really hope I can get out of fashion and that I can land a journalism fellowship.
In which ways have you grown so far as a result of your studies at CUNY SPS?
I have learned the value of collaboration. I also get to leave my "mom-mode" behind. In school, I don't need to have all the answers. I can give myself permission to ask questions and learn from other people. It has been a very liberating experience.
What's the greatest piece of advice you've received while at CUNY SPS?
Don't be afraid to ask for help.
What advice would you offer someone considering applying for admission to your program? What advice can you offer someone who is juggling, school, work, and other obligations?
Don't be afraid to ask for help.
Tablets on subways are your friends.
Prioritize.
Make sure to take care of yourself
What do you hope to do after graduating from CUNY SPS? What does your future look like?
There are two possibilities. The first is to enter academia, which would likely mean going for a master's degree. The second is to enter journalism. I've been "career crushing" on Bloomberg since going to the International Women's Day Celebration that Bloomberg sponsored at the Metropolitan Museum of Art. (Thank you, Anthony, for that invite!)
Fun Facts About Lisa
Place of residence: Artsy Bushwick, Brooklyn
Weirdest place you have studied: In the bathroom at work.
Best thing about your community: My CUNY SPS community taught me to be a better listener and that I don't have to have all the answers.
What are you reading right now? Americanah by Chimamanda Ngozi Adichie
What are you watching right now? Not much time for that. I try to stream skits from SNL now and then.
What you enjoy doing in your spare time: Spending time with my son and friends. I love to read. I love to write. I love to draw. I wish I had time to paint still...