Webinar: Can You See Me Now? Authentic Representation of People With Disabilities on Television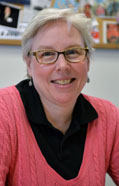 With the popularity of current television shows like Speechless, Switched at Birth, and Born This Way, audiences are beginning to see accurate, authentic portrayals of people with disabilities. Is this the beginning of a new "Golden Age" in TV? Noted disability and media scholar, Dr. Beth Haller offers a detailed conversation about the evolution of authentic representation of people with disabilities on TV and the resulting impact on popular culture.
About Dr. Haller
Dr. Haller is Professor of Journalism/New Media and the Graduate Director of the Communication Management master's program in the Department of Mass Communication & Communication Studies at Towson University in Maryland, where she has been a full-time faculty member since 1996. She is the author of Representing Disability in an Ableist World: Essays on Mass Media (Advocado Press, 2010) and the author of Byline of Hope: Collected Newspaper and Magazine Writing of Helen Keller (Advocado Press, 2015). She is also the former co-editor of the Society for Disability Studies' scholarly journal, Disability Studies Quarterly, (2003-2006). She is adjunct faculty for the CUNY School of Professional Studies' Disability Studies master's and undergraduate programs and for York University's Critical Disability Studies graduate program in Toronto, Canada.