Book Talk: Breaking Through! Helping Girls Succeed in Science, Technology, Engineering, and Math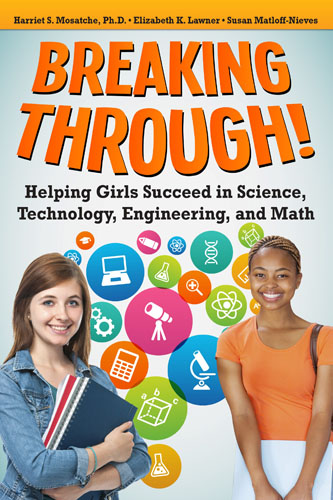 119 W. 31st Street, 4th Floor, NYC
Join authors Harriet S. Mosatche and Susan Matloff-Nieves as they lead an intimate conversation on how we can keep girls' enthusiasm for science, math, and technology from fading. Based on the insightful tips noted in their book, Breaking Through! Helping Girls Succeed in Science Math, Technology, Engineering, and Math, this interactive workshop will include practical examples and ideas on taking action inside and outside of the classroom. A select number of books will be given away to those in attendance, and a book signing will follow the event.
About the Authors
Harriet S. Mosatche, PhD, is a developmental psychology researcher and award-winning author who provides executive/leadership coaching to nonprofit organizations, corporations, and private clients. She has codirected research projects for the National Institutes of Health and National Science Foundation and served on peer review panels for the U.S. Department of Education, Office of Juvenile Justice and Delinquency Prevention, and National Science Foundation.
Susan Matloff-Nieves has been a leader in community-based work with parents and youth for over 30 years. She has created a number of innovative community-based educational programs, including a personalized high school for students who lag in credit accumulations, a college retention program for those who dropped out in high school, and comprehensive afterschool programs. She is currently executive director of the Lincoln Square Neighborhood Center in New York City, and serves as a faculty member in the Youth Studies degree and certificate programs at CUNY SPS.
Elizabeth K. Lawner, formerly a researcher in youth development at Child Trends, is a social psychology doctoral student at the University of Connecticut where she researches the barriers to recruiting and retaining women in STEM.